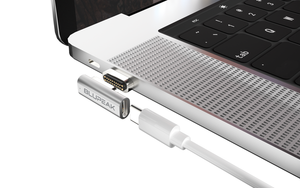 BluPeak USB-C Magnetic Adapter
Regular price

$43.30

$47.63

$43.30
(inc GST)
Adding product to your cart
Easily connect and disconnect the Blupeak Magnetic USB-C. With the USB-C Adaptor simply attach it to any existing USB-C Cable or Charger for safe and reliable charging. With three secure pin holders and magnets, the connection will stay connected and secured but still release if the cable or device is snagged or picked up.
With support for Charge up to 100W and Sync at USB 3.1 Gen 2 - 10Gbps use this adaptor on any USB-C device or charger with confidence.
Suitable for any Windows USB-C Laptop, Apple USB-C MacBook and iPad Pro range.
• USB-C 3.1 Gen 2
• 100W maximum Power
• Premium Aluminium Design
• 3 Pin Magnetic couplers
• Works with any existing USB-C Cable*
• LED Light indicator for power/connection
• Plug n Play – no drivers to download and install