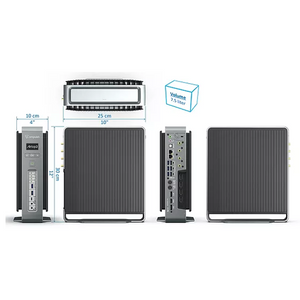 Compulab Airtop 3
Contact us for a quote
Adding product to your cart
Airtop 3
Introducing the new Airtop 3 – a ruggedised small-form-factor fanless IoT edge server powered by an 8-core Intel® Core™ i9-9900K Processor and Nvidia Quadro RTX 4000, both passively cooled using Compulab's Natural Airflow technology. With a footprint of just 7.5 litres, Airtop3 can passively dissipate up to 300W and operate at a wide temperature range of -40°C to 70°C. Airtop3 ships with a 5-year warranty.
Fanless Core i9 9900K and Quadro RTX 4000
IoT edge server can reduce processing latency, network bandwidth requirements and TCO, provided that it is sufficiently powerful, robust and easy to deploy.
Airtop3 presents a unique value proposition for edge computing in harsh environments:
Exceptionally high performance – 8-core, up to 5 GHz Intel Core™ i9-9900K or Intel Xeon coupled with Nvidia Quadro RTX or GeForce GTX GPU and high RAM capacity up to 128 GB

Rich storage, networking and I/O, each can be enhanced thanks to Airtop3's modular design

Passive cooling across wide temperature range and a rugged all-aluminium small-form-factor housing

Maintenance-free design, tool-free serviceability and advanced monitoring and diagnostics provisions
Available with the following specifications
CPU: Celeron G4900T, i5 9500, i7 9700, i9 9900K, Xeon E-2278G, Xeon E-2244G
RAM: 8GB, 16GB, 32GB, 64GB, 128GB with ECC on request
DISK: With up to 4, 1TB or 2TB HDD or SDD
NVME: 256GB, 1TB or 2TB
GPU: Quadro RTX 4000, 1660Ti or dual 10GbE or 3x NVME adapters for up to 3x 1TB NVME SSD
FACE Module: 
USB-C, Audio, uSD, PCIe
4x GbE + 4x USB
2 miniPCIe
6 serial + 2 CAN
Optical LAN
4x GbE LAN with PoE source
Operating Temperature: -20 to 70°C or -40 to 70°C