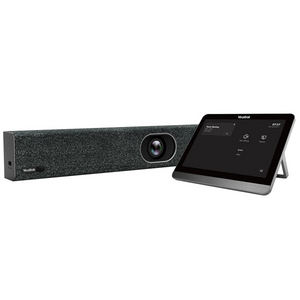 Yealink A20-021-Teams
Regular price

$2,635.45

$2,899.00

$2,635.45

Sale price

$2,899.00

Sale
(inc GST)
Adding product to your cart
An all-in-one meeting bar for huddle and small spaces featuring integrated AI-powered camera, 8 MEMS microphone array, 20MP camera with 133° super wide-angle lens and speaker. Includes a CTP18 collaboration touch panel.
Features:
Electric lens cap for privacy
AI technology including Auto framing and speaker tracking
Noise proof technology for an excellent audio experience in small rooms
Full-duplex audio mode ensures that everyone can be heard as well as seen
5W high fidelity speaker
Wi-Fi, Bluetooth and Dual screen support running on Android 9 with native TEAMS boot up.
The CTP18 Collaboration Touch Panel is a user-centric interactive touch panel allowing users to join & control a meeting quickly and effortlessly while also supporting the WPP20 (not included) for wireless presentations.