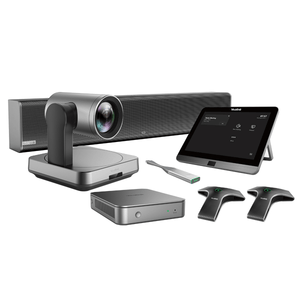 Yealink MVC840-C2-211
Regular price

$5,726.00

$6,298.60

$5,726.00

Sale price

$6,298.60

Sale
(inc GST)
Adding product to your cart
The Yealink MVC840-C2-211 Microsoft Teams Rooms system is an easy-to-use video conferencing solution designed for medium-to-large rooms.
Featuring a native Microsoft Teams-tailored user interface with a close-to-zero learning curve, you can just walk into the room and start your meeting with a one-touch join.
Includes
1x UVC84 12X optical USB PTZ 4K camera, with VCR20 remote control, power adapter, wallmount bracket and cables
Yealink MCore Kit (with MCore mini-PC and MTouch II), power adapter, cables and wall bracket
1x WPP20 for wireless content sharing
2x VCM34 array microphone
1x Yealink MSpeaker II, power adapter and cables
1x PoE Switch for audio connection, power adapter and cable
2-year hardware warranty
The thoughtfully designed,  high-performance Mcore mini-PC preloads Windows 10 IoT Enterprise OS and license, Microsoft Teams Rooms App, as well as the Yealink Camera Control Plug-in. Its all-in-one design allows one CAT5e cable to connect the TV and the conference table area to complete the data transmission and power supply, no additional power supply or extension cable is needed.
The MTouch II touch panel allows you easily perform call control, camera control, content sharing and other functions (including a Human Motion Sensor enabling the system to automatically wake up, auto-framing & smart noise proof technology
The Yealink UVC84 camera allows for the auto-framing of all participants present at a meeting, freeing your hands and focusing on the meeting itself. Meanwhile, with the Yealink camera control plug-in and camera presets, the mechanical pan, tilt and zoom can be done quietly in one step.
With a 12x optical zoom, the UVC84 supports 4K video calls, 20ft/360° voice pickup range and eliminates background noises with noise proof technology.